PCOS Challenge, Inc. is the national polycystic ovary syndrome association. We are leading 501(c)(3) nonprofit support organization advancing the cause for girls and women with PCOS serving 45,000 members.
Our Vision:
PCOS is treated as a public health priority.
Our Mission:
Raise public awareness about PCOS and help women with the condition overcome their symptoms and reduce their risk for life-threatening related diseases such as cancer, diabetes and cardiovascular disease.
Board Members:
View the PCOS Challenge Executive, Medical/Scientific, and Health Advisory Board Members
PCOS Challenge, Inc. Provides Support for Women with PCOS Through:

Because of individuals like you, we now touch the lives of millions of women with PCOS and their supporters each year through television and radio programming, online and offline support groups, and education and awareness initiatives. Since our beginning, we've helped many women find answers that helped them overcome their struggles with infertility, weight gain, anxiety and depression and reduce their risk for life-threatening related conditions.
Please consider donating to PCOS Challenge, Inc.
93% of all donations received go directly to support PCOS programs. When you make a donation or become a Hope for PCOS monthly giver, you can take comfort in knowing that your regular contributions are constantly working, day in and day out, to improve the lives of women with PCOS through:
Vital online and community programs
National educational and awareness initiatives
Cable television and radio programming reaching millions of households
Your contribution has a direct impact on the lives of women with PCOS.
If you have questions about PCOS Challenge, Inc. programs and ways that you can support our efforts, please contact us.
---
Important Facts and Research Regarding PCOS1
PCOS is a complex hormonal and reproductive disorder that affects over seven million women in the United States and 1-in-10 women worldwide.
PCOS is the leading cause of infertility in women.
Women with PCOS constitute the largest group of women at risk for developing cardiovascular disease and type 2 diabetes.
PCOS is a precursor for other serious conditions including cancer and obesity.
Suicide attempts are up to seven times more common in women with PCOS than other women.
Pre-teens and teens can develop PCOS. Earlier diagnosis can give them the opportunity to better manage the emotional, internal, physical effects of PCOS. It can also help them prevent the onset of more serious illnesses related to PCOS.
Despite affecting millions women and the serious health consequences, PCOS is unknown to most people and a staggering 50% of the women living with PCOS are estimated to still be undiagnosed.
---
Meet the PCOS Challenge Executive Director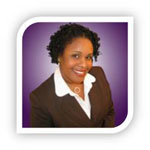 Sasha Ottey is Founder and Executive Director of PCOS Challenge, Inc. Sasha started the organization after she was diagnosed with PCOS and experienced great dissatisfaction with the availability of support resources for women with the condition.
Since its programs started 2009, PCOS Challenge, Inc. has quickly grown to 45,000 members worldwide including its online and offline support groups. PCOS Challenge is innovative in its multimedia approach to support. It produces the national award winning cable television show PCOS Challenge, a health series which follows ten women with Polycystic Ovarian Syndrome as they have their lives transformed by naturopathic and allopathic medical experts and coaches. Its website, PCOSChallenge.com has been called the "Facebook for women with PCOS" by its members, and its popular PCOS Challenge radio show features internationally recognized PCOS experts, New York Times best-selling authors and real life stories from women with PCOS. The organization also provides offline support networks, webinars, and educational products.
Sasha is a Clinical and Research Microbiologist with a Bachelor's degree in Clinical Laboratory Science from Howard University and a Master's in Health Administration from the University of Phoenix. Prior to founding PCOS Challenge, Sasha was a contract research microbiologist at the National Institutes of Health (NIH).
For information, visit the PCOS Challenge nonprofit Web site, http://www.pcoschallenge.org, or the PCOS Challenge television and radio show Web site, http://www.pcos.tv.